Marketing Services
For 15 years, our team has helped business owners, ministries, and organizational leaders meet their marketing and business goals by providing online and offline marketing services.
Put our experience to work for you today!
Logo and Branding
Working with graphic designers, we team up to create impacting and fitting logos to represent organizations. A logo must be a unique identifier that visually connects a client's prospect or client to the organization at a glance.
A strong brand must also be developed to visually carry the organization across various media such as web, print, and promotional products.
Events / Event Marketing Services
Corporate events range from a simple open house to a formal dinner with speaker. We have assisted a wide range of organizations with their corporate events from veterinarians to economic development organizations.
Aptus Marketing and Development can assist you, from concept to follow up, in putting on the best corporate event with:
Event Concept
Venue Selection
Menu Considerations
Entertainment and Speaker Ideas
Guest List Development
Invitation Methods, Design and Distribution
On-site Management at Event
Registration Setup and Gift Distribution
PR and Publicity Before and After the Event
Post-Event Correspondence
Direct Mail Marketing Services
Aptus Marketing and Development assists clients in direct mail planning, mailing list management, obtaining mailing lists, designing direct mail, production of direct mail pieces, distribution, and success measurement of direct mail campaigns.
Direct mail is still a valid form of marketing, even in today's digital world.
We recommend all direct mail pieces lead prospects back to the client's website, gives them a phone number to call, and has a QR Code for mobile phone access. This bridges the digital / offline marketing gap.
All direct mail pieces should be targeted, not only demographically, but also in design to appeal to your audience. We assist clients with strategically targeting their current databases based on the client's business goals.
Email Marketing Services
Are you using email marketing? Reaching prospects and clients for a fraction of the price of traditional mail. While response rates are lower on email marketing campaigns, if an organization has a large enough list, they can utilize email marketing over direct mail.
Or, even better, you can create a cross-channel campaign using email marketing and direct mail marketing making a larger impact to your prospects, leads, and clients.
Email marketing starts with a list. Here at Aptus Marketing and Development, we encourage organic email lists – that is to say, we discourage purchasing an email list. An organization can place an email subscription sign up form in various places from your website homepage and Facebook to a trade show drawing and at the front counter of your business.
Next, a message or offer is crafted. This message must be compelling for the recipient to take action. Surrounding the message, items like the subject line, who the email comes from, and overall branding with professional design count.
Mass email management and distribution systems now offer analytics to help an organization determine the success, or failure, of an email marketing campaign.
Marketing Strategy
Aptus assist clients with their complete marketing mix. Any successful company needs to plan, do, reflect, and adjust. We will assist you in planning your marketing strategy, implementing the planned marketing actions, reviewing the success of marketing efforts overall and by campaign, and adjust to run with the winners and modify low performing marketing efforts.
Our marketing strategies are developed based on your organization's specific needs. We learn everything we can about our clients – their market, their business, their operations – everything. We then brainstorm and develop a specific marketing strategy and marketing action plan to meet the needs, business goals, and budget of our client.
Print Ad Development
Aptus Marketing and Development creates marketing strategies that are carried out through various pieces of the marketing mix. One of those marketing pieces is the print advertisement. While we live in a digital world, print still has a place in it.
Our graphic design team carries the marketing message to print through attractive designs that prompt the reader to take action. Our marketing team creates compelling or informative messages that create results. And they build in as many tracking devices as possible to measure the success of print ad campaigns.
We can also manage your print ad marketing. No need to worry when your next ad will run. We will ensure that the planned ad runs at the time it is supposed to. And you will enjoy consolidating your advertising vendors to just us.
Search Engine Optimization
It is no secret that good search engine rankings are mission critical! When developing websites for our clients, we include search engine keywords in the website code. But the mission for high search engine rankings does not stop there!
Search engine optimization should be used in all forms of online content starting with website content. Other online content that should use search engine keywords include social media posts, blog posts, in-bound links, and press releases.
Aside from determining the best search engine keywords and applying them as frequently as possible, we also run search engine ranking reports on client websites. These reports tell us what is working and what search engine tactics need improvement.
Social Media Marketing Services
Before a social media plan is put in place, it is recommended that clients have a website  in place. Aptus Marketing and Development evaluates the type of content, through brainstorming and competitor analysis, which an organization should use in social media marketing. A social media plan is then developed using appropriate social media outlets.
In developing the social media plan, we author content that uses search engine optimized keywords. The plan is then implemented. A majority of all content includes a link back to the organization's website driving traffic and converting prospects to leads.
Trade Show Strategy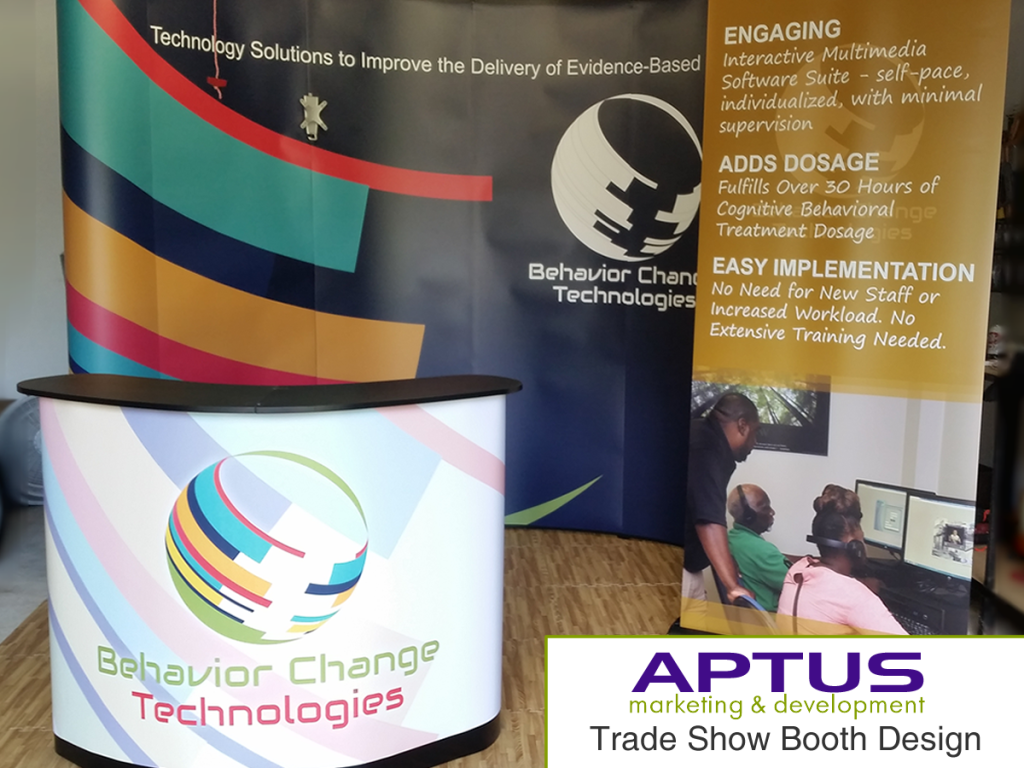 Trade shows are a popular way to reach highly targeted audiences. Get a booth, show up, and success, right? Not exactly. Let Aptus Marketing and Development help you develop a full trade show strategy.
Show Selection
Pre-show Marketing Campaigns
Trade Show Booth Development and Design
Promotional Items
Print Collateral
Information Collection
Post-Show Campaigns and Follow Ups
Website Design

An organization's website should be the hub of their marketing mix. All marketing pieces from print ads to direct mail give a web address for more information. This creates a 24/7 marketing tool for businesses and organizations, allowing prospects to gather more information when it is convenient for them.
There are 3 things needed to setup a website:
Domain Registration. The domain registration is the .com address of a website. It is similar to a 911 address that points to a physical location.
Hosting. The website must have a home to reside on. This is similar to a parcel of land in the physical world.
Website code. The website code is like the billboard or store sitting on the parcel of land.
We are able to supply all 3 of these requirements making Aptus Marketing and Development.
Our first step in the development process of a website is strategic planning – what do we hope to accomplish with the website. This determines the nature of the website whether it is to provide information, engage the visitor, include customer service features, or ecommerce. Then, all content is written for the site; with search engine optimization in mind. From there, the client branding is used in graphic design to develop the look and feel of the website.
The content and functions (dynamic content) are then developed into the website. As the pages are being coded, the ever-important search engine optimization  remains a focus. Prior to launch, draft websites are tested in multiple browsers for compatibility. And analytics are installed for Success Measurement.